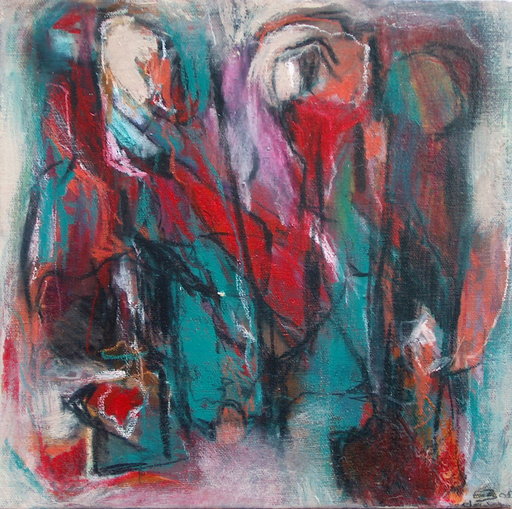 Els Smulders - Waijers Born: Eindhoven 1946.
Current adres and studio: Tuinstraat 50, 5175 CR Loon op Zand, Nederland.
Telefoon: 0031 (0) 416-362476
Studio in Portugal: Mendeira, 6100-291, Cernache do Bonjardim
Telephone: 00351 - 918807799
e-mail: elssmulderswaijers@home.nl
I studied at the 'Academie voor Beeldende kunst' in Tilburg 1964-1968. As a teacher in drawing, painting and art history, I worked at secondary schools. Besides working for myself, nowadays, I teach about 50 adults in my studio at home and I regularly publish articles on art subjects.
My work is divers. It includes abstract experimental paintings, portraits and model studies and, every now and then, landscapes, still lifes or flowers. My abstract work is a subjective imagination of my personal experience and it comes to exist intuïtively.
Whilst I'm working, my hand seems to become independent and in that way more or less automatically an image discloses that surprises and touches me. My personal experiences forms a picture straight from my subconsciousness through the painting medium. Looking backwards in a mirror I can check whether a certain composition is 'correct'. The proportions, based on the ideal sizes, known from nature and music, have to lead to harmony. Only on this condition and only when I'm touched by the result, I can decide my work is finished.
A portrait should demonstrate something about the character of the person involved. Because of that, I insist in bringing that into expression. It must be possible 'to read the inside' of the model from the portrait. But a portrait should also 'match'. So my portraits are realistic, in spite of the fact that I enjoy some experiments with the use of colours. My 'style' has a slight impressionistic aspect and certainly will not be recognised as 'photo-realism'
Since 2004 I work also in my studio in Portugal, where I also organize workshops. If you are interested in my work or you want to join a workshop, please don´t hasitate to contact me.
More information about the workshops: http://www.schildereninportugal.nl http://www.panoramio.com/photo/10537450
I invite you to have a look in my 'Galerie'. Chose a topic to see more of my work. By clicking on the picture you can enlarge it.